Learning through play. More love for books, less screen time. Quality handmade busy book and play sets that grow with your child as their imagination grows!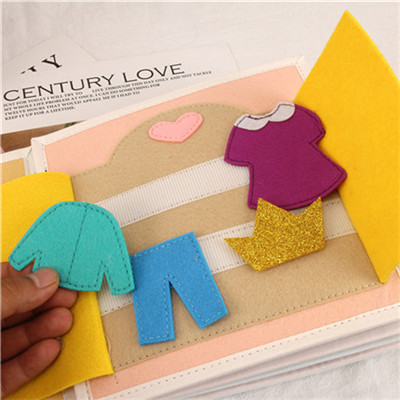 A quiet book/busy book/ busy cube is the first book in the baby's life that he/she can "read" independently. It is like a portable collection of funny images and educational activities for children to enjoy. It is based on Montessori principle and designed for travelling. It is an educational and interactive toy. It will keep kids entertained and occupied during travelling.
Materials
Our books are made from the best available non-fading fabrics. The pages are made from polyeser felt . The borders are made from either cotton or silk. Removable pieces are made of polyester felt and there are a variety of wooden beads, pegs, buttons, zips, magnets, snaps.

Functions
This soft baby book offers hands-on experience in  buttoning, learn how to open different kind of fasteners, and how to dress up.You can use them to animate fairy tale stories or for some other games. This is a good sensory toy for the baby helping to develop the fine motor and cognitive skills, color and form identification, behavior and mental logic, as well as imagination.This item will be a good tutorial device for parents practicing Montessori philosophy in education.
Activity books encourage creativity through pretend play. Children could play for hours going through the book from one page to another. It is a perfect gift for your child for his/her first, second or even third birthday! This is a great toy to entertain children without the use of any technology! Keep it in your car and take it to doctor appointments, restaurants, long car rides, or airplane trips. Use for special times, when you need to keep children happy and quiet!
Key development areas
● Creative play
● Develop fine motor skills
● Encourage problem solving
● Enhance creative thinking
● Develop concentration
● Introduce pre-reading skills
● Utilise Finger isolation
● Hand eye co-ordination
● Develop Life skills
● Build hand strength
---
Post time: Sep-16-2022