We know you are tired of disorganization in your home and you often find yourself picking up the whole mess when you have some unexpected guests. You don't need to worry anymore because we have got a perfect solution for all of this fuss. Our fabric organizer basket is best for keeping your home organized and clutter-free. Enjoy your guests instead of picking up items and finding a place to put them. Take care of your everyday storage needs while keeping your home organized with our functional storage basket.
SAFE & ENVIRONMENT FRIENDLY

Our storage organizer collapsible bin is made of eco-friendly felt fabric which is flexible, provides good insulation performance as well as good wear resistance. The soft texture ensures no damage to your clothes or any other delicate items you place inside. And with no sharp edges like usual toy boxes, that means kids won't get hurt.
Large capacity of storage and organize , light weight solutions , with handles for carry up to move one to other room.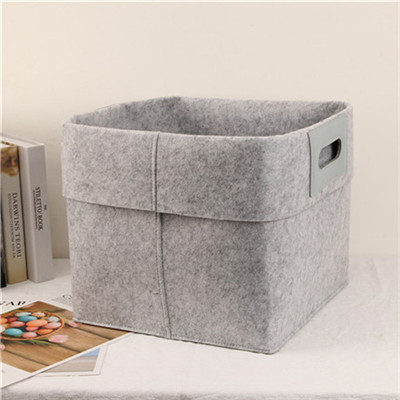 Material: recycled felt with comfortable touch feeling, soft ,flexible but sturdy, protect surfaces undamaged
Multi use open storage bins, protect surfaces can to fit shelf to hold small accessories , or on the desk to keep kids toys , pet toys, magazine books newspapers clothes socks Laundry, bags, shoes ,etc. Durable and sturdy . It is able to hold heavy stuffs to not exceed 45 Lbs .
Add a modern touch to your office or home . Eye-catching 2 tones color , lightweight solutions to many storage needs while keeping household items like makeup cosmetic ,kitchen utensils and bath accessories tidy and organized.
Minimalism , modern and stylish for cozy interior decor for home office school.
---
Post time: Sep-16-2022